April 11, 2019 Newsletter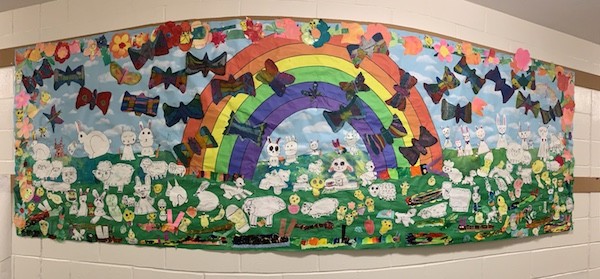 During the last Feel Good Friday, each grade in Lower School contributed to this art piece centered around the theme of springtime and spring colors. What a beautiful work of art!
RA Toiletry Drive Ends Tomorrow - Please Make a Donation!

If you haven't donated to RA's Toiletry Drive benefiting two local organizations - Inspirica and Filling In The Blanks, it's not too late! All toiletries including hand soap, toothpaste, laundry detergent, shampoo etc. are appreciated! Drive ends tomorrow Friday, April 12.

Thank you in advance for your donations!
2019 Gala Auction Information
Gala Newsletter
During the next several weeks leading up to the Gala, the Gala Newsletter will provide all the information you need to know! It is the one and only place to "read all about it" whether it's details about the venue, what to wear, how to get there, the reveal of Live and Silent Auction items or who's coming, the Gala Newsletter will be your guide! The Gala Newsletter can be viewed here!

1920s Car Needed for Gala Video
If you have or have access to an antique (ideally from the 1920s) car that we could use for the filming of our auction video, please email Kara Morgan as soon as possible. We would need to have the car on campus for an hour or so sometime in the next two weeks to get video footage.

Please Consider Donating an Item to the Gala
If you have a unique item idea or donation to make this year's auction the best ever, please let us know! A complete wish list of ideas can be found here .

Gala Sponsor and Advertiser Information
Do you have a business that you would like to promote to our community? Please consider being an advertiser/sponsor in our 2019 Gatsby Gala Program. It is an excellent way to promote your business and support our school! Please return the attached form as soon as possible.

Purchase Your Tickets!
Tickets to this year's Gala can be puchased here! Please purchase your tickets no later than April 18!

Purchase a "Sponsor a Teacher" Ticket!
We believe that when faculty and staff are able to attend our Gala, it enriches the evening significantly and brings our community together. The "Sponsor a Teacher Ticket" option helps make that possible and your gift is 100% tax-deductible! You may purchase a "Sponsor a Teacher" Ticket here!

Purchase a Brick
Purchase a commemorative brick to be displayed on the beautiful grounds of Ridgefield Academy's campus and create a lasting tribute for years to come! Please see more information here!
During their lesson on simple and complex machines, Grade 5 students built a series of creations using K'nex building sets.
Spring Concert Information
PS/LS
The PS/LS Spring Concert will take place on Thursday, May 2, at 8:45am in the Summit Gym. All students in the 4s through Grade 3 will be performing. Concert dress for Lower School students includes school uniforms with a white shirt. Preschool students may dress in festive spring attire. We look forward to seeing all of you there. Any questions, please email Mrs. Penn.

MS/US
Grade 5 band and US chorus and band will be performing in Turner Hall on Thursday, May 16 at 7pm. Any questions, please contact Debbi Curry.
Mark Your Calendars!
RA has put together a vacation calendar for the 2019-20 school year that shows when school will not be in session. A full calendar will be issued later in the spring. This calendar can be found on the Patriot Portal or simply click here!
Register for RA's Summer Programs!
Ridgefield Academy's summer programs offer a wide variety of full and half-day programs from traditional day camp activities to Camp Invention to specialized sports camps to technology sessions and so much more! Below is a description of a few of the amazing programs being offered this summer!

June 24-28: Mr. Nash's Spotlight on Science
This summer, all of your favorite experiments and hands-on science activities can be found with Mr. Nash's Spotlight on Science Week! Campers will engage in and create slime, launch rockets, eat Martian dust, code and program in bloxels and doodlematic, make tornadoes and H2O molecules, and much more!

July 15-19: Camp Invention
Camp Invention is back at RA!! Our week of camp will be broken into four adventures. Join the Innovation Force to defeat Plagiarizer, a supervillain out to steal the world's ideas or Deep Sea Mystery where campers will invent island-survival tools and underwater equipment used to better study marine life. In Farm Tech, campers will play the role of a farmer tackling the real-world economic challenges of running a farm and program a robot to conduct the practical tasks of running a farm. And finally, in DIY Orbot, campers will reverse-engineer a remote-controlled Orbot and explore frequency, circuit boards, motors, and gears and have their own robot participate in challenges involving art, sports, and more. Camp Invention is a week of hands-on STEM challenges and learning about world-changing inventions.

Please click here for a description of all of RA's engaging summer offerings! Register now and join us for a summer filled with fun!
Grade 8 working hard and having fun in French class.
RA Featured Book of the Month: April
This Month's Featured Book—brought to you by the librarians at the Ridgefield Academy library.

Miss Rumphius by Barbara Cooney is a timeless classic, enjoyed now by a second generation of children. Published in 1982, it was a New York Times Best Book of the Year and the winner of the American Book Award. As a child, Miss Rumphius was given the task by her grandfather of making the world a more beautiful place. How would she do that? She lived an adventurous life, traveling all around the world. Then when she was an old lady, an idea came to her. The book has lovely, colorful illustrations that bring the story to life. An inspiring story for all ages—even adults!

RA Families: Buy a Ticket and Bring a Friend for Free
The Ridgefield Playhouse is offering a "buy one get one" deal to RA students for the upcoming Ridgefield Academy Family Series show: Stuart Little on April 27.

It is a musical adaptation of the popular children's story – live on stage with actors. Please use the promotional code RASTUDENT when purchasing tickets. To make your reservation, please click on the following link: https://ridgefieldplayhouse.org/events/category/event-series/family/list/


Come March with RA on Memorial Day!
On Monday, May 27, the town of Ridgefield will once again hold it's annual Memorial Day Parade. Ridgefield Academy and Landmark Preschool will be marching in the parade this year and we want you to come march with us! Please email Kara Morgan to let us know if your family will participate. More details to come soon!
April 12
Grade 6 Medieval Times; 8:30am-3pm
Grade 5: Meals on Wheels; 9:30-11:30am
US Social; 7-9pm; Bridge

April 16
Take a Look Tuesday; 9:00 - 11:00am
Spring Fun for Ones; 9:30-10:30am

April 18
Kindergarten Performance; 8:45-9:15am; Turner Hall
Grade 7 Foreign Language Lunches; 11am-1pm

April 19
Good Friday: School and Offices Closed

April 22
Service Day: Rise Against Hunger; 9:30am-3pm

April 23
Spring Fun for Ones; 9:30-10:30am
Kindergarten Field Trip: Katonah Art Museum; 1-3pm

April 24
Grade 3: Poetry Slam; 8:45-9:45am

April 26
LS Feel Good Friday
Service Learning: YSOP
MS/US Visiting Poet; 8:30am-2:30pm
Grade 4: Service Learning-Waveny; 11-11:45am
Grade 2 Field Trip: Ridgefield Library; 12-2pm

April 27
Service Learning: YSOP

Grade 1 had a blast creating with clay in art class.
Recap of RA's Interdisciplinary Week
RA's Interdisciplinary Week gives students an opportunity to look at a specific topic from a variety of perspectives. Interdisciplinary Week is the product of over a year of discussions between the Center and RA administrators, meant to be a week-long, age-appropriate continuation of the interdisciplinary experiences that students have had in earlier grades – such as the Endangered Species Fair and Egypt Fair and to give our 7th and 8th graders a deeper, high school-type learning experience. Please read the full recap here to find out about the amazing classes available to our students during this special week.
RAPA Board Nominations Are Open
Have you ever considered volunteering to be a leader of our Ridgefield Academy Parents' Association (RAPA)? Volunteering at our school can be extremely rewarding and does a great deal to support the various events and activities of our school.

All RA parents belong to RAPA and are eligible to be nominated for leadership roles. You may nominate yourself or someone else for the 2019-2020 RAPA Board and Executive positions by completing an online ballot between April 4 and April 30. Nominations can be submitted online easily using this form.

RA's Carolyn Savoia to Perform In Snow White
Come see RA's own Carolyn Savoia star as Snow White in Bridgeport's Downtown Cabaret Theatre's production of Snow White. For tickets and more information, please click on the following link: https://dtcab.com/show/snow-white/
Supporting Local Organizations
RA was well represented at last weekend's Danbury's Women's Center gala! The DWC Board is chaired by past parent Glori Norwitt. Elaine Cox and Lori Berisford, also past RA parents are on the Board, and current parent Wendy Wo-Beurket is on the Advisory Council. Jessica Tobin (past RA parent) co-chaired the event and RA parents showed up in force!

The Women's Center is the sole provider of domestic abuse and sexual assault survivor services in the Northern Fairfield and Southern Litchfield areas. The center serves 30,000 individuals each year and is available 24 hours a day, 7 days a week, 365 days a year.

Shown from L-R top row: Kaitlyn Hayes, Kaye Hale, Rajal Young, Brian Morgan, Claudia Morgan, and Daryl Noble; L-R Bottom row: Briggs Tobin, Allie Black, and Alysa Wakin
Our community is built on support - from the 2s through Grade 8